About Goblins of Elderstone
Goblins of Elderstone brings a unique and chaotic twist to the city-building genre. It is more than just a city builder – it's a Goblin Tribe Simulator! In Goblins of Elderstone, you will nurture your tiny clan as it grows to become an awe-inspiring tribe, capable of standing against the other races and, perhaps, even the gods. Rule over the chaos and feed the growing goblin war machine by raiding dungeons and villages.
The gameplay is inspired by the Anno games, Banished, Stonehearth, Rimworld, and the Settlers series, but it is still very much its own legend. We love goblins, and believe that they are underrepresented in games. They deserve a city builder of their own! We have created a slight spin on the genre, and we hope you love the experience. We hope you agree that goblins are awesome and don't always have to be the villains – unless, of course, you want them to be!


In Goblins of Elderstone, the choice is yours. You can use your wisdom and industrious nature to create a trade empire. You can be the divine chosen one and lead your tribe to glory through the power of your faith in the gods. You can be a conqueror and show the world the might of your goblin forces. This is your tribe, and it is whatever you make it!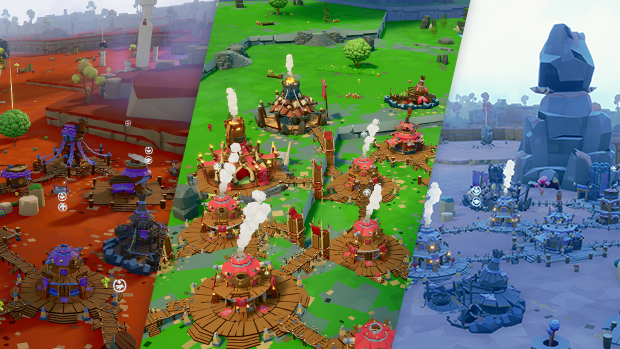 Free-form city building – Goblins don't much like orderly straight lines, so there's absolutely no way they'll use a grid when building. They are rebellious, but creative. As a result, buildings go up wherever desired, but neat little pathways and bridges will always be built alongside them to ensure they're properly connected.
Large resource and crafting tree – With over 30 different resources that can be gathered, crafted, traded, or stolen, your goblins will always have plenty of work to do. As a result, it's worthwhile to invest in a few Enforcers to ensure they keep at it!
Clan, World, and Divine politics – Use a combination of fast-talking, gift-giving, violence, and just the right amount of threats to keep your clans in line. Failure to do so will likely result in a fair amount of murder and potentially the destruction of your entire village. However, diplomacy doesn't stop there. Other races, and even the gods, can be convinced to do your bidding.
War, Trade, or Faith – Whether you choose to trade in violence, commerce, religion, or a combination thereof, the world will be shaped by your actions in some way or another.

Scout, Raid, Trade, or Pilgrimage – Goblins aren't really the patient, caring type. That's why they're better at setting fire to farms than actually growing anything. Therefore, as your tribe grows, you will need to send special teams of goblins out to explore surrounding areas in search of wealth and glory. How you deal with what you find is up to you. Will you raid and pillage the region, trade with other cities, or send Spiritual Treks out to holy sites to gain favor with your gods?
RPG story moments – Elderstone is never a dull place. There are many unique tales to unravel in this twisted land. Deal with traveling strangers, evil overlords, cunning dragons, and even benevolent gods. With the writing talents of Edwin McRae backing the project (writer on Path of Exile, Bloodgate, and other amazing games), you know you're in for quite the ride.
Defend your tribe – Danger lurks around every corner. Defend your tribe from roaming monsters, pesky adventurers, and enemy raiding parties. Do a good enough job, and you can even retaliate with your own!
Friends and foes – You share this land with a multitude of other races. Squishy humans, stuck-up elves, grumpy dwarves, and smelly orcs are all out there somewhere. It's probably best not to outwardly display your disgust with them, though, as that tends to start war. If you're willing to put up with them, and maybe exchange a few pleasantries, you could make some friends.
Interesting characters – It's not unusual to run into a few strange individuals as you explore the world. They all have their stories and motives. Some seek adventure, some may request a helping hand, and others might just be in the market for a new goblin tribe to enslave. Be ready for anything.


Our beautiful music is being crafted by the incredible award-winning team of Hyperduck Soundworks and our very own award winning audio designer!


Goblins of Elderstone – Steam CD Key for PC is available on PlayEarnGame for the lowest price on the market and you can pay for it with our crypto.