About Hatsune Miku VR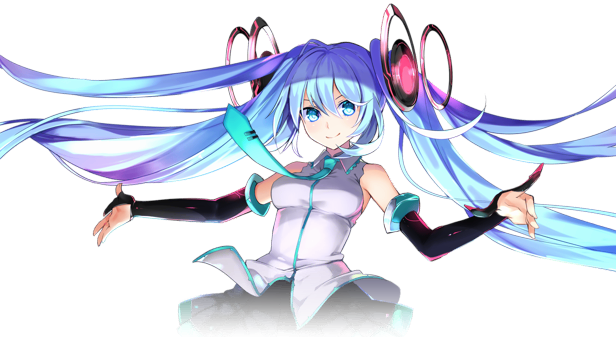 World-famous virtual singer Hatsune Miku invites you to join her on stage in this VR music game! Simply put on your headset, choose a song, then use your VR controllers to catch the melody symbols flying from the speakers at the back of the stage. But beware of the long riff symbols and other challenges that will make it harder to reach the perfect score!
Songs
The following songs from popular Hatsune Miku artists are included:
Stella (by KotsubanP, illustration by KEI)
Ievan Polkka (by Otomania, illustration Yukino Tamago)
Singularity (by keisei, illustration rsk)
Amagoi Miseinen (by Wada Takeaki 'Kurage P', illustration MONQ)
Sharing The World (by BIGHEAD, illustration apapico)

Ghost Rule (by DECO*27, illustration 八三)
SenbonZakura (by 黒うさP, illustration 一斗まる)
Hibikase (by Giga, illustration Mochizuki Kei)
SLoWMoTIoN (by PinocchioP, illustration PinocchioP)
Lucky Orb NEW
Features
Rhythm action game using VR controllers
Enjoy Miku's original dance while playing the game
Snow Miku outfit and Negi glow stick
Ten songs with two difficulties for intense dance action
Music video mode: watch any song from multiple angles with a choice of stages and outfits
Hatsune Miku VR – Steam CD Key for PC is available on PlayEarnGame for the lowest price on the market and you can pay for it with our crypto.