About Shortest Trip to Earth
Featured DLC

https://store.steampowered.com/app/1392710/Shortest_Trip_to_Earth__The_Old_Enemies/
About the Game
From the writer of "Teleglitch: Die More Edition" comes Shortest Trip to Earth, a roguelike spaceship simulator featuring exploration, ship management, game-influencing decision-making and real-time tactical battles.
Community Translations available in German, Russian, Simplified Chinese and more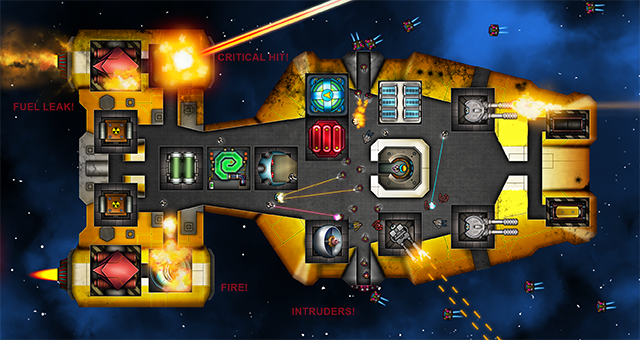 Onboard combat against hostile intruders is a messy business
Explore a detailed and deadly universe
Embark on a perilous journey through a procedurally generated universe and explore massive space sectors crawling with exotic lifeforms. Engage in action-packed tactical combat against hostile ships, boarding parties and inter-dimensional space monsters.

Each ship comes with its own strengths and weaknesses
Master the art of survival by customising your ship with modular components and perks. Choose from a range of spaceships and manage life within your vessel – from crew, pets and drones to ship modules and weapons. Shape your journey through hundreds of multiple-choice events, featuring unique hand-drawn illustrations.

A selection of crew types
Shortest Trip to Earth features unforgiving permadeath, but you can unlock perks to increase the odds of survival on your next run.
Key Features
Master the art of survival in unexplored space!
Explore a procedurally generated universe, packed with content
Collect resources, craft modules & upgrade your ship
Epic real-time tactical space battles
Onboard combat, featuring hostile intruders, drones and battle-hardened pets
500+ ship modules, a variety of ship weapons and nukes
30+ unique crew weapons
50+ types of crew, drones & combat pets
Hundreds of random events with unique illustrations and outcomes
Every ship starts with a cat
Shortest Trip to Earth – CD Key for PC is available on PlayEarnGame for the lowest price on the market and you can pay for it with our crypto.