About Electronauts – VR Music


Ever wanted to ride the vibes of a top DJ playing a packed festival's main stage? Here's your chance to shine: all it takes to be an Electronaut is the passion to become one with the beat. Create music with confidence, no matter your skill level, as you make music magic in this VR-exclusive experience.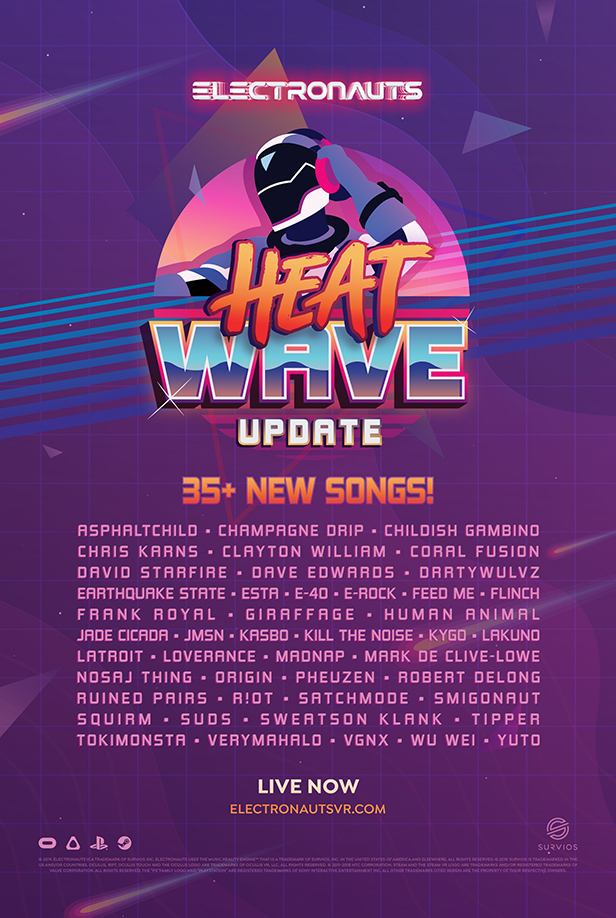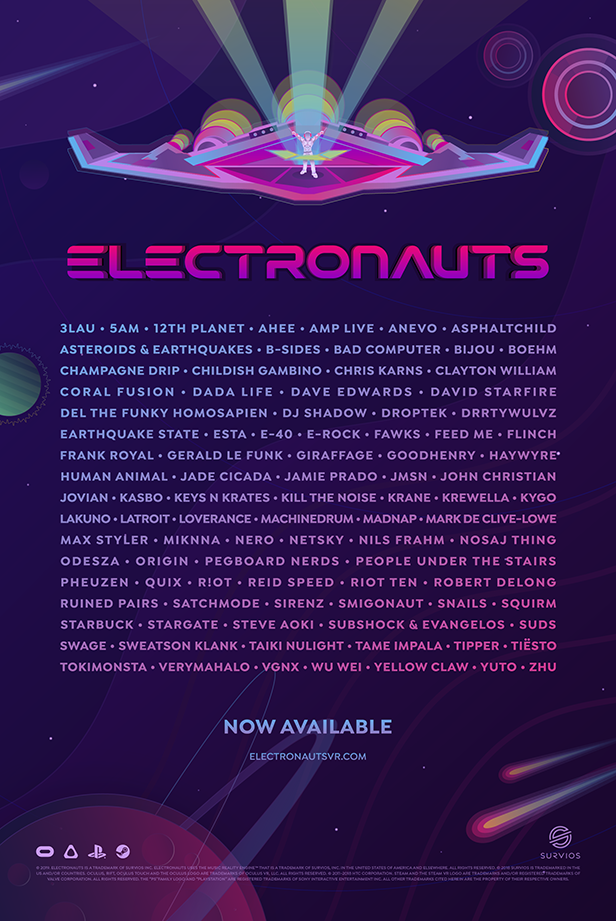 Top Artists: Mixmaster over 80 tracks from 80-plus artists across EDM, hip hop, trap, and countless other genres and make their music your own.
Music Reality Engine™: Electronauts' proprietary technology always keeps your sounds bumpin' on beat, no matter how much you mix, with nine unique instruments.
Experiment: Jam on eight digital instruments only possible in VR, from sampler orbs to sonic grenades, arrayed on a customizable deck.
Remix: Record loops and sequences, layer filters, mashup and arrange songs to your style as you make them your own.
Collaborate: Partner up with a friend or jump into a quick-match sesh to form the ultimate power duo.
Perform: Crush your set with surreal visuals, adaptable colors, and dynamic camera angles that make your performance fit your mood.


Featuring music from the likes of The Chainsmokers, Krewella, Tiesto, ZHU, Kygo, and Childish Gambino, Electronauts puts their music in your hands to remix, produce, and perform. Electronauts has already wowed crowds with live performances by 12th Planet and Bijou at EDC Las Vegas and showcases at E3, SXSW, and NAMM—and now it's your turn to step into the spotlight.


Electronauts is powered by Survios's proprietary Music Reality Engine™, which transforms song elements into interactive components that will always sound epic no matter how you mix them. Throw sonic grenades, drum on synth orbs, and rearrange vocal hooks as you dream up your unique arrangements.
Electronauts – VR Music – Steam CD Key for PC is available on PlayEarnGame for the lowest price on the market and you can pay for it with our crypto.