About Fruit Attacks VR
'fruit Is Coming!
Unexpectedly scrumptious-looking aliens have come to conquer Earth! '
You are the only one who can protect the world!
…Well, actually…
Your SATI's sonic attacks will save the world, but you'll pilot it!
Pick up your HTC Vive controllers and defeat your enemies with outrageous attacks only possible in VR.
"certified 'fresh' Rotten Apple" -fruit Galaxy!
"The most juicy VR game ever!", 99% – F-meter (Fruit Meter)
The casual shooter has been reborn as a VR game that everyone can enjoy. Take on the role of a SATI robot to battle and defeat fruity fresh enemies invading the Earth!
A space probe of curious aliens arrives on Earth and witnesses humans mercilessly munching on their species.
The aliens are furious, but is it possible that fruit are the enemy?…
Once quirky inventions abandoned on a secluded island, the SATI speaker robots are now the only weapon capable of destroying the surprisingly-resilient fruit aliens.
Hold the HTC Vive controllers in both hands and unleash devastating curved attacks.
Each SATI robot has unique characteristics. Discover their strengths and use them effectively to emerge victorious against the fruit aliens!
Each type of malicious fruit alien also have unique characteristics. Study them to predict their moves, and earn your victory without breaking a sweat.
Take a load off in between battles, upon which the fate the Earth hangs. Enjoy the tropical scenery and relax.between battles.
Fight for higher rank by playing against friends and family!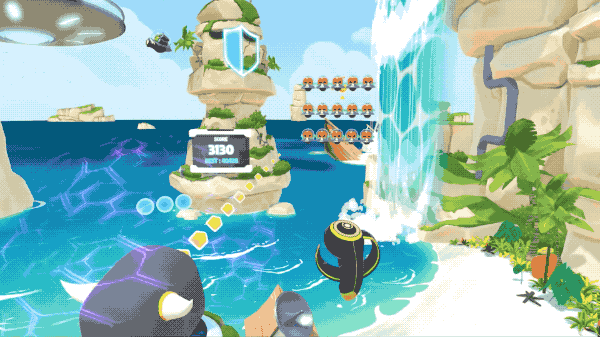 Fruit Attacks VR – Steam CD Key for PC is available on PlayEarnGame for the lowest price on the market and you can pay for it with our crypto.