About Coffee Talk
In Memoriam

Mohammad Fahmi Hasni, co-creator and writer of Coffee Talk passed away on March 28th, 2022 from an asthma attack. He was only 32 years old.
Fahmi had a big heart and was a wonderful person. He was known as someone who is really passionate about telling meaningful stories through games. He was a role model that inspired many of us, especially Indonesian indie game developers. Rest in peace, Fahmi.
Fahmi's works
https://store.steampowered.com/app/1421760/What_Comes_After/
https://store.steampowered.com/app/1599780/Afterlove_EP/
Wishlist Episode 2 here!
https://store.steampowered.com/app/1663220/
Join our Discord!


About the Game
Coffee Talk is a game about listening to people's problems and helping them by serving up a warm drink out of the ingredients you have in stock. It is a game that depicts lives as humanly as possible, while having a cast that is more than just humans.
Immerse yourself in the stories of alternative-Seattle inhabitants, ranging from a dramatic love story between an elf and a succubus, an alien trying to understand humans' lives, and many others modern readers will find strongly echo the world around them.
Wishlist Coffee Talk Episode 2
https://store.steampowered.com/app/1663220/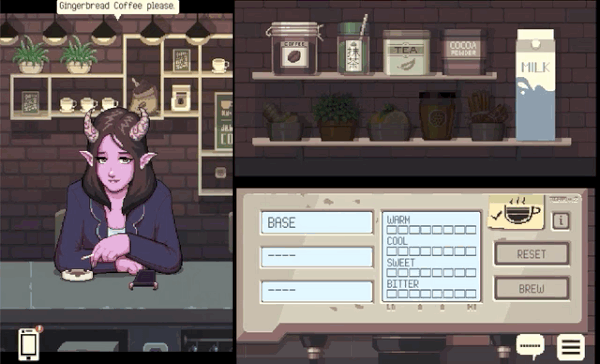 The game features:
Tales of people from an alternative-Seattle, a city where elves, orcs, mermaids, and many other fantasy races live together with humans in a modern world we will all find familiar
Branching storylines, where the branches are determined not by the dialogue options you choose, but from how you serve your café customers
90's anime-inspired pixel art visuals and chill vibes-inducing color palette help to immerse you in the game's world
Selection of jazzy and lo-fi music to accompany the late night warm drinks and conversations
An experience to make you think, feel, and rest both your body and your soul
Coffee Talk – CD Key for PC is available on PlayEarnGame for the lowest price on the market and you can pay for it with our crypto.