About International Affairs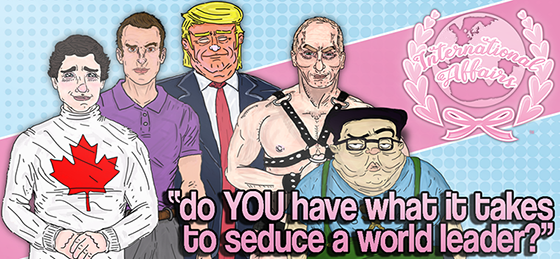 Set in the ultra-exclusive world of the UN, International Affairs is a delightfully strange visual novel that challenges YOU to romance powerful heads of state while uncovering a mysterious threat to global security. With jaw-dropping dialogue choices, outrageous plot twists, and beautifully illustrated hand-drawn art, the prospect of achieving world peace has never been so sensual!
Choose from a dazzling array of globetrotting hunks including Drumpf, a brash, orange bully with a wall around his heart; Poutine, a sinister Russian leather daddy with a love of bears; Kim, a shy Asian dictator with a stockpile of rockets and not much else; Macaroon, a suave Casanova with a well earned rep for being the most romantic diplomat in town; and Justin Truffaut, the kind, considerate Canadian next door, and your childhood best friend.
Featuring
Unravel a shocking storyline stuffed full of secrets, with over a dozen unique endings to unlock!
Massive variety of branching paths, sidequests, and dates to explore
Roughly 4-7 hours of gameplay per playthrough
Hilarious and engaging dialogue
A brightly illustrated world of colorful characters and wild CG's!
Booty shaking music
Travel to exotic locales including Washington, Paris, Moscow, and more!
International Affairs – CD Key for PC is available on PlayEarnGame for the lowest price on the market and you can pay for it with our crypto.