About Slipstream
Slipstream is a racing game inspired by the visuals, music, games and cars from the late 80s and early 90s. It's built on a custom game engine, with an authentic retro feel and unique graphics. The soundtrack, drawing from synthpop and jazz fusion influences, sets the tone for a race across a variety of exotic locations from all around the world, including cities, deserts, forests, mountains and beaches. Drifting and slipstreaming mechanics add depth to the driving gameplay, and the result is a challenging and exciting experience.
Features
Authentic pseudo-3D game engine with 2D graphics, just like the glory days of the arcade racers.
20 Different tracks, set on a variety of exotic locations all around the world… and beyond.
Local multiplayer up to 4 players!
6 Game modes:

Grand Tour, a road trip through exotic landscapes, with branching paths and rivals to race against.
Cannonball, a freely customizable race mode with optional traffic, rivals and other racers
Grand Prix, a championship mode with five races back to back and money prizes used to upgrade your car!
Single Race, just a race in any of the game's 20 tracks
Time Trial, a solo race against time
Battle Royale, an elimination endurance race mode

5 Car models, each with its own specs and playstyle.
Original soundtrack with 9 exclusive songs + you can add your own music.
A variety of graphical options to customize the game's visuals, including 30fps mode, CRT and NTSC filters.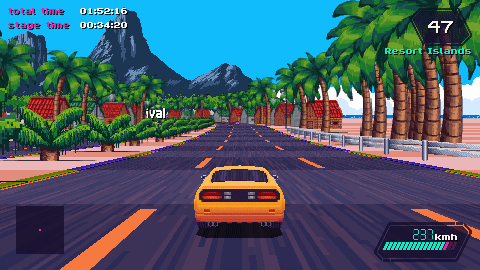 Slipstream – Steam CD Key for PC is available on PlayEarnGame for the lowest price on the market and you can pay for it with our crypto.