About Tank Royale
Classic arcade game meets modern online multiplayer brawler!
FIGHT FOR SURVIVAL:
Rampage the battlefield to power up your tank with boosting items
Shoot everyone else
Don't let anybody shoot you
Be the last tank standing!
Remember, only the winner gets chicken dinner! (and $$$)
Whatdoes Tank Royale offer?

Battle Royale. Feel the thrill of fast paced action and win to climb up the global ranking! Enter Battle Royale mode to fight in quick PvP battles of up to 10 players. Be the last tank standing! This mode is fully accessible in the free version.
Duo Mode. Tired of playing alone? Looking for some co-op experience? Join arms with a friend to fight against four other teams and heal each other when shot! A whole new take on the battle royale experience. Only for full edition users.
Your Very Own Tanks Collection. Show off your success! Winners get Gold, Gold gets you awesome tanks and customizing items! Express yourself on the battlefield and show everyone how much you won with your awesome tank!
Global Ranking. Be the last tank standing every time to become the global number one! Nothing boosts the thrill of battle like some healthy competition!
Battle Defense – PvE Mode Need some release from the constant PvP struggles? Take on these crazy AI tanks! Protect your base at all costs! No internet access? No problem! Battle Defense is fully playable offline! Team up with a friend for double fun! (keyboard and game pad required for 2P version)
Full support for keyboard and game pad!
More Contents Coming
Our team is constantly working to make Tank Royale even more amazing before the full release.
Please share your feedback so that we can make the game better!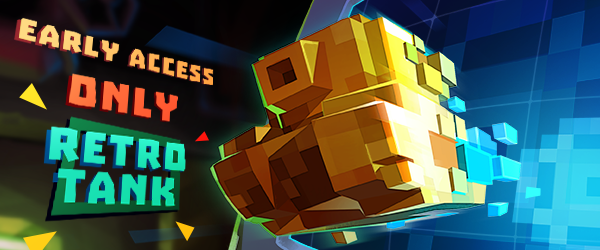 Tank Royale – CD Key for PC is available on PlayEarnGame for the lowest price on the market and you can pay for it with our crypto.