About Space Battle VR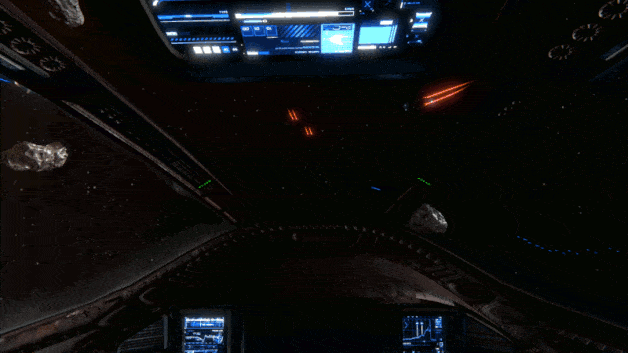 Have you ever dreamt of going to space? I bet you have, we all also wanted to see space with our own eyes and this is the reason why SpaceBattleVR came to life. It's a fast-paced action game with breathtaking graphics set in the outer space and it makes our dream come true.
Thanks to VR controllers support it provides you with a truly mesmerizing experience of how does it feel to be a real spaceship pilot. You better get ready to be fully immersed into this wonderful universe with astonishing storyline and fascinating characters!
It sounds appealing, doesn't it? However, in reality, the future doesn't seem so bright… You will take part in a real space warfare of a massive scale filled with pain, suffering, and death. Take up the gauntlet and help people regain peace and happiness once lost. Face the challenge!



The REAL VR controlls!
Space Battle VR has very unique control system where you "physically" grab the sticks with your controllers. Using the touch controllers as flight sticks makes the whole game more immersive. Not only immersive, but fun. And getting used to it takes just a few seconds!



Plunge deep into chaos of war and fight! It's up to you how you will go through your adventure. Feel the immensity of space and help humanity regain freedom!



Choose from broad variety of available spaceships and unlock even more of them. Each spaceship has its own statistics and is unique in its own way! Choose your favorite sentry guns and missiles. Develop your own fighting style to frighten enemies!



Explore! Travel through meticulously designed fascinating locations.



Complete all of your missions, even the most nonstandard ones, and prove everyone that you can be trusted no matter what!



We're an indie studio which means we're happy to hear your opinion and improve our game as you want! We're creating this game with passion and we would like to make it together with you.
Space Battle VR – CD Key for PC is available on PlayEarnGame for the lowest price on the market and you can pay for it with our crypto.